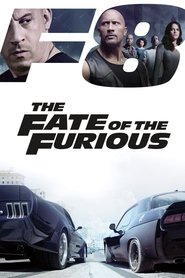 The Fate of the Furious
When a mysterious woman seduces Dom into the world of crime and a betrayal of those closest to him, the crew face trials that will test them as never before.
Views: 378
Genre: Action, Adventure, Crime, Mystery, Thriller
Director: F. Gary Gray
Actors: Charlize Theron, Dwayne Johnson, Jason Statham, Ludacris, Michelle Rodriguez, Tyrese Gibson, Vin Diesel
Duration: 136 min
Quality: HD
Release: 2017
HD
Bastille Day
Bastille Day
HD
Michael Mason is an American pickpocket living in Paris who finds himself hunted by the CIA when he steals a bag that contains more than just a wallet. Sean Briar,…
HD
Blood Diamond
HD
Let Me Make You a Martyr
HD
Lies & Illusions
HD
Stratton
Stratton
HD
A British Special Boat Service commando tracks down an international terrorist cell.
HD
SuperFly
HD
Naruto the Movie: Ninja Clash in the Land of Snow
Naruto the Movie: Ninja Clash in the Land of Snow
HD
Naruto is thrilled when he is sent on a mission to protect his favorite actress, Yukie Fujikaze, on the set of her new movie, The Adventures of Princess Gale. But…
HD
The Transporter
HD
Return of the Jedi
Return of the Jedi
HD
As Rebel leaders map their strategy for an all-out attack on the Emperor's newer, bigger Death Star. Han Solo remains frozen in the cavernous desert fortress of Jabba the Hutt,…
HD
Hard Boiled
HD
Rogue One: A Star Wars Story
Rogue One: A Star Wars Story
HD
A rogue band of resistance fighters unite for a mission to steal the Death Star plans and bring a new hope to the galaxy.
HD
Jumanji: Welcome to the Jungle
Jumanji: Welcome to the Jungle
HD
The tables are turned as four teenagers are sucked into Jumanji's world – pitted against rhinos, black mambas and an endless variety of jungle traps and puzzles. To survive, they'll…